Today is race day as NASCAR hits Kansas, but today also marks 5 years since the tragic passing of
Dan Wheldon
at the infamous IndyCar World Championship race at Las Vegas in 2011. A 2-time Indy 500 champion, a 2005 IndCar series champion was just more than a great driver. He was a genuine man, father, husband, brother, son, friend and an idol that fans look up to. RIP Lionheart.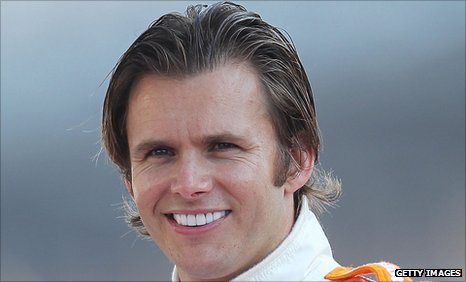 Regular Contender





Posts

: 940


Join date

: 2012-10-05


Age

: 24


Location

: Manchester, NH (near Boston)



I had just made the observation that my birthday was on a Friday for the first time in 5 years. Still remember where I was when I found out he had passed.

Doesn't feel like it's been 5 years.
Legend





Posts

: 2312


Join date

: 2011-08-06


Age

: 27


Location

: Warren, Michigan



October 16th is a day that I always spend wallowing in silent remorse, fumbling for meaning in why it meant so much to me as a racing fan.

I write this eulogy every year, painting a portrait of how Dan Wheldon was some sort of demigod. The truth is that even now I struggle to compensate for words that can adequately convey how I feel about the death of a man who I was hardly familiar with at the time.

I overslept that day and missed the start of the IndyCar race at Las Vegas. It was not until after I woke up I began seeing reports of a massive accident on the eleventh lap of the race, followed by the shocking announcement that the defending Indianapolis 500 champion had been fatally injured. Reading it made me numb, watching the accident made me cringe. But it was ultimately the circumstance and the stigma surrounding it that made me break down – the million dollar purse, Dan's radio communication under pace laps, the live reactions of my friends who were watching the race as it happened, the air hanging with consternation, the announcement from IndyCar CEO Randy Barnard, the five-lap tribute, the wife and family that Dan left behind, the drivers holding back tears in their interviews, and the news reports in the days following. I was too new to motor racing to adequately understand what happened when a driver died. Enduring all of this and finally realizing what it meant lead me to that understanding. It was a proverbial loss of innocence for me, this accident of such a tremendous magnitude that opened my eyes to the omnipresent danger of the sport I loved. To this day I still get chills thinking about all of it and learning about the man Dan was. One of the most personable men in the IndyCar garage, taken from us so suddenly. Is simply saying that he's in a better place of any solace when he made the world a better place for everyone around him?

I know the difference between a death in family and a death in motor racing. I've had more deaths in my family than I care to remember; ones that left me grappling for answers in the same way Dan's did. But a death in my family was never so abrupt, or affected thousands of other people. It's the people who are on the top of their game who you least expect to perish. Every time there's a driver death in motorsports, such as with Jason Leffler, Jules Bianchi, Justin Wilson, and most recently Bryan Clauson, I'm always left with an uneasy feeling that takes me back to that sunny October day in Las Vegas five years ago.

For now and all times, R.I.P. Dan Wheldon.
Champion





Posts

: 1044


Join date

: 2011-08-06


Age

: 20


Location

: Living in a box under the stairs in the corner of the basement in the house half a block away from Jerry's Bait Shop (You know the place).



I remember in 2011 watching the Indy 500 at the Outback Steakhouse in Lancaster California. I hadn't watched IndyCar much at the time because I was 12 and thought NASCAR was the world.

Later that same year I was watching the TV outside the changing room of the Kohl's in the mall across the street from that same restaurant, and then it happened. The driver who had become my instant favorite in this new (to me) sport was killed in front of me. Even at my young age, as I had had an obsession with fatal crashes since at latest age 10, I could tell. It was just awful, and I somehow managed not to shed a tear.

At the very least, his death has increased the safety standards for the rest of the racing world. As always for anybody who dies performing their passion, he did not die in vain.

R.I.P. Dan Wheldon.
Development Series Rookie





Posts

: 213


Join date

: 2011-08-09




---
Permissions in this forum:
You
cannot
reply to topics in this forum