Legend





Posts

: 2686


Join date

: 2013-11-29


Age

: 20


Location

: São Paulo, Brazil



First-Time Winner





Posts

: 375


Join date

: 2015-11-02


Age

: 19


Location

: Martinsville, VA



Spoiler:

OOC: Wait, what happened to Meyato? He was up there in the lead pack, but was nowhere to be seen after the Leckliter incident.
Regular Contender





Posts

: 591


Join date

: 2011-08-08



Hetzel is Happy!

David hetzel had a short quip about the race at 70/77. "We are ecstatic with not only Johnson Clapp, but Todd Stater's performances. This has been by far our best race since Daytona and we're glad we are in victory lane. Johnson is a good driver and him and his team he normally races with are a great group of guys. I wish them the best. This was really more Johnson's idea than mine to put him in the car, we didn't have anyone in our big shot dealt his week and so he said he wanted to join and it worked."
Legend





Posts

: 2460


Join date

: 2011-08-08



Spoiler:

Johnson Clapp happy to work with Hetzel again after win
After winning the 70/77 100 this weekend, Johnson Clapp said he was "very pleased" with the effort made by the David Hetzel team to get him to the top step of the podium.

"For sure it was an amazing effort by all the crew and I just want to thank David for giving me the opportunity to race for him this weekend. If he ever needs me to step in again I'd be glad to!"

First-Time Winner





Posts

: 271


Join date

: 2014-05-06


Age

: 21


Location

: Auckland, New Zealand



Timothy Ruiz FINALLY reveals his car
As mention a week and a half back, Timothy Ruiz would race at 2 FARC events. However, at that time, Ruiz car (#112 sponsored by Polito's) was no where to be seen. However, just a few days after the race, Ruiz revealed his car scheme for his 2 races.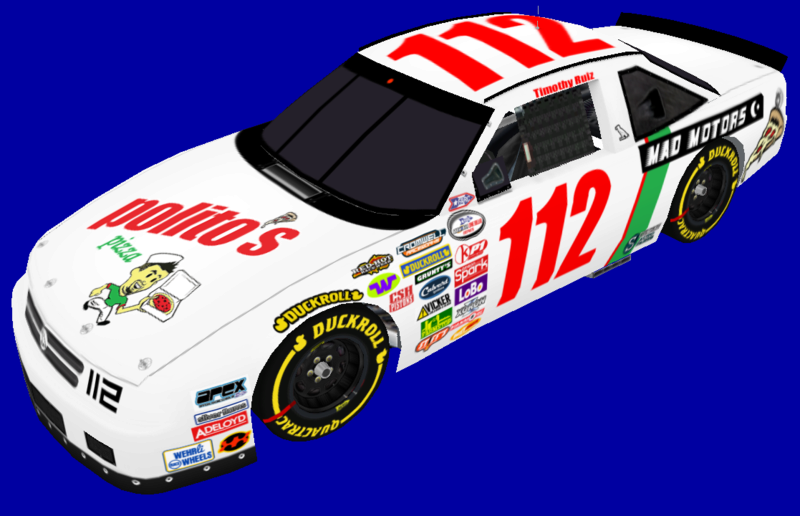 This is Ruiz's 2016 car for 2 races.
Ruiz said, "He wanted it to look a bit low budget but to still catch the audiences eye." He would also mention "I was unsure if I wanted that scheme at first, but it grew on me."
Some FARC drivers and a few people thought it look bland. One driver, who asked to be anonymous, said "That car look like it had no effort, bland as [bleep]." While some clearly don't like the scheme, Others thought it was a good "back to basic scheme" with one saying "It's not the best looking, but at least it doesn't make your eyes hurt. Basic but playful." So as of now, the scheme is mixed, but in time I think it will grow on other people.
Development Driver





Posts

: 97


Join date

: 2011-09-03


Age

: 23





Similar topics
---
Permissions in this forum:
You
cannot
reply to topics in this forum