Eutechnyx, makers of the NASCAR: The Game series which includes 2011, Inside Line, 2013, and their new mobile phone app, Redline, have officially announced that there will be a new game next year. The game, which is simply titled NASCAR '14, is expected to be out sometime in or around March 2014. This year, the fans will get to decide who gets to be on the on the cover, with a 32 driver bracket. This is of course the same format Eutechnyx did for Inside Line's cover vote, which was won by Dale Earnhardt Jr. by a decent margin. However, with Junior sitting this vote out, could we see an underdog win it? Voting will take place for a few weeks before we know who gets it.

Voting schedule
Round of 32 Oct. 21-27
Round of 16 Oct. 28-Nov. 3
Round of 8 Nov. 4-10
Round of 4 Nov. 11-17
Final Round Nov. 18-24
Winner Announced Dec. 6

To vote, go to www.driveforthecover.com

Thoughts on the newest game?
Last edited by flyingturns89 on Tue Oct 22, 2013 10:10 pm; edited 1 time in total (Reason for editing : I don't notice obvious things like the fact that Dale Jr. isn't eligible.)
Legend





Posts

: 2718


Join date

: 2011-08-09


Age

: 23


Location

: Pennsylvania



>Ambrose is beating Kyle
>Almirola is only losing by a tiny margin to Danica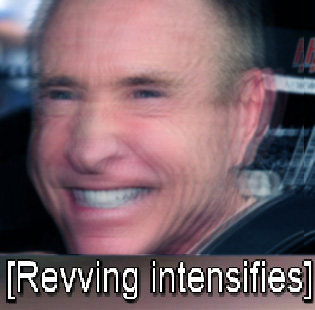 Also Dale Jr. won't be on the cover at all, because he ain't on the vote. Hopefully Activision has a 5 year rule where the same driver can't be in the voting for 5 years after winning.
Legend





Posts

: 3418


Join date

: 2012-04-29


Age

: 24


Location

: Sydney, New South Wales, Australia



I at least hope Danica doesn't get voted on the front cover, oh wait she will cos' she gets more attention than Dale Jr. these days.
Legend





Posts

: 5823


Join date

: 2012-01-11


Age

: 21


Location

: Northampton, UK



Also, the game is now being published by Deep Silver, publishers of Saints Row and Dead Island. However, they also published Ride to Hell: Retribution for Eutechnyx, which is probably this generation's equivalent of Big Rigs: Over the Road Racing...
Champion





Posts

: 1587


Join date

: 2012-05-10


Age

: 21



You people are forgetting that Danica was also in the vote last year and was almost beaten by Landon Cassil. She lost decidedly in the second round if I remember correctly and didn't even make it to the final vote.
Champion





Posts

: 1392


Join date

: 2011-09-17


Age

: 22


Location

: Equestria



It's an interesting group this time around. Saints Row is a game that has got unanimous praise in the gaming world....While Dead Island from i've heard was total crap.
Legend





Posts

: 3998


Join date

: 2011-08-06


Age

: 94


Location

: San Francisco, California



Another year, another crappy NASCAR game!
Legend





Posts

: 2549


Join date

: 2011-08-07


Age

: 23


Location

: Bay Village Ohio




---
Permissions in this forum:
You
cannot
reply to topics in this forum