Went to the Robogames in San Mateo, California yesterday and was a boatload of fun. Focused primarily on the combat robots portion of the tournament but the games also featured mech warfare (Humaniod bots), Robot Sumo, Robot Soccer, Bot Hockey, Art bots among other things.
Will update after post with footage from other as well as my own stuff from the games.
Results From Sunday! Copypasta from my Facebook.
K2 Vs Vlak in the Lightweight class
Pic of K2
Vlak over K2. K2 dominated until the drive failed. One sided for the most part.
Touro vs The Mortician
Touro over Mortican in an awesome fight. DEATH EVERYWHERE! (Mortician's blade SNAPPED in half and was then finished off when a wheel fell off)
General vs Doom On You
General over Doom On You in 30 secs. (Very quick fight after DOY tapped out after getting chewed apart.)
Ziege Vs Heavy Metal
My picture of Heavy Metal.
Ziege over Heavy Metal via judges. Pretty nice wedge fight. (Ziege was more agressive but pretty even for the most part)
Kaku Vs Witch Doctor
Kaku over Witch Doctor via split decision. Witch Doctor's blade stopped working a minute in. Crowd mixed. (Witch Doctor seemed to be favorite for some)
Blender Vs Mandy
Shot of both robots
Blender over Mandy by KO. Drum damage on Mandy did it in. (Mandy got wrecked is the best way to put it)
Big Cheese Vs KillerKT
Big Cheese over KilerKT after KT got stuck on the wall for a 2nd time. (There is a one free unstick rule when you got stuck on the wall)
Son Of Ziggy Vs Brutality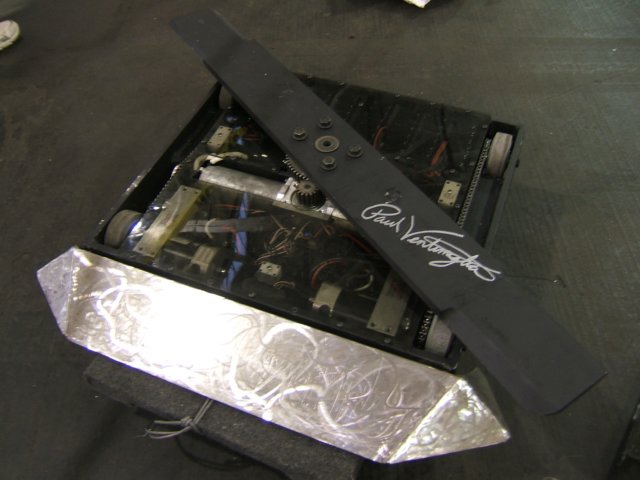 Son Of Ziggy over Brutality. Brutality dominates until the chain breaks and is counted out. (Ziggy used his rear end to attack Brutality and Ziggy was pretty badly damaged at the end of it)
Original Sin vs Sewer Snake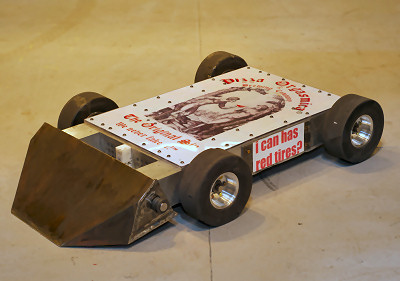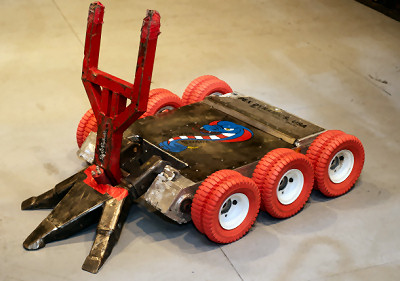 Orginal Sin over Sewer Snake. Great fight as usual. SS breaks the camera mount after the fight doing acrobatics. (That snake is such a showoff, Also said fights are uploaded to the youtoobs)
Last Rites Vs Great Pumpkin and Friend (Flybot)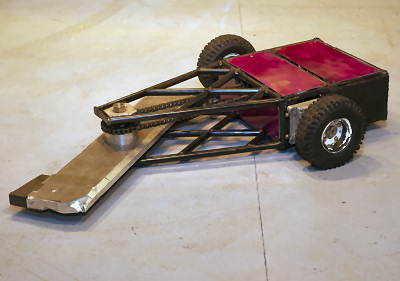 Last Rites over Great Pumpkin and Flybot. Flybot hit the rafters and flipped within the first 5 seconds. Pumpkin tapped after a few shots. (yfw Pumpkin beat the big version of Touro)
More to come...
Highlights in Video form



Botcam of K2



Janice...MAULER DANCES



Sewer Snake vs Ziggy



Hot Stuff vs Sabretooth



Sewer Snake Vs Last Rites final



Middleweight finals



V is For Victory VS RIP



Bunny vs Flaming Flybot



Mech Warfare final



Original Sin vs Last Rites



Last Rite vs Vlad The Impaler II


Finals results: Gold - Silver
220 lbs USA - Original Sin USA - Sewer Snake USA - Last Rites
120 lbs Brazil - Touro Brazil - General USA - Mortician
60 lbs Brazil - Federal M.T. USA - The Big B USA - Black
Believe Vlak is actually Black. So an 8 year old girl drove her way to a Bronze Medal.
Rest of the results:
USA - Raptor 2.2 Brazil - Mini Maloney USA - Attitude
3 lbs - Auton UK - The Box Mexico - Upiitote Mexico - Rompemadres
1 lb USA - The Bomb USA - Captain Crunch Canada - Kitbot
1 lb - Auton UK - Wanderer Mexico - Pinito Mexico - Telavas Telacara
5.3 oz USA - Tiny Terror USA - Snuggle Bunny USA - Atom Bomb
Soccer:
Android 3:3 Japan - Team Japan 1 Japan - Team Japan 2 Korea - KPUCIR
LEGO 2:2 Brazil - CIC Robotics Brazil - CIC Robotics Mexico - uabc
Sumo:
3kg - R/C Brazil - C3 Mexico - Arrow Mexico - Arrow Two
3kg - Auton Latvia - Kurmis Latvia - Gauja Mexico - ESumo Z
1.5kg - Humanoid Brazil - Usain Volt Korea - RND_SPIRIT USA - Super Robot 44
1kg - Lego - - -
500g - Auton Latvia - Tilt Mexico - BOOMER Mexico - Centinela
100g - Auton Mexico - Bettlejuice Mexico - BSGITO Mexico - Micro AZTK
25g - Auton Mexico - Yoda USA - Mad Dog I Mexico - Vi-Thor
Androids:
Kung-Fu - MiddleWt Korea - RND Ultra Korea - RND Winbledon USA - ZynNaut
Kung-Fu - LightWt Korea - Grandeur Korea - BlueLink Korea - Sparta
FreeStyle - original Korea - Ping Pong Korea - RND Winbledon Japan - Zaura
FreeStyle - kit Brazil - Psy Volt Hong Kong - philo-gripper Japan - Ryuketsu-Kamen
Stair Climbing USA - Zot USA - Super Robot 44 Korea - Ping Pong
Biped Race Japan - Thunderbolt Korea - RnD_Sparta Japan - Ryu-Sen
MechWars - HardCore USA - Hi No Hikari Japan - Frogfoot USA - Xanthe
MechWars - Airsoft USA - Immortal USA - Nomad Latvia - HD2
Obstacle Run USA - Stryker Philippines - J2 USA - Looney the Robot
Weight Lifting Korea - RnD_Sparta Korea - RnD_Eska USA - Looney the Robot
Penalty Kick Philippines - J2 USA - Looney the Robot -
Lift and Carry USA - Looney the Robot Philippines - J2 USA - Stryker
BasketBall Korea - RND Winbledon Philippines - J2 USA - Looney the Robot
Dash Korea - RnD_Eska Philippines - J2 -
Open:
Best of Show France - Xachikoma UK - Grinder UK - R2-D2
Line Follower (auton) Latvia - Bridge Drifter Poland - 4th Murphy's Law Mexico - El Rojito
Maze/Micromouse (auton) USA - Pathfinder USA - FONDUE USA - AI_Rat
Fire-Fighting (auton) Indonesia - Hafidh UK - Pyrotechnika USA - Averted Embers
Walker Challenge (auton) UK - Grinder Indonesia - DU116Walker-V13 UK - Ziggy
Balancer Race USA - Blinky Indonesia - Karjo Mexico - Cereal Killer
Table Top Nav (auton) USA - Doohingus Maximus Indonesia - Xerok-V13 USA - DVD Bot
Indonesia - Capit-V13 [tie]
Shooting Gallery (auton) Indonesia - DU116SGR-V13 USA - Stage 1 Sentry -
Robomagellan (auton) USA - SACbot USA - Kybernetes USA - Mighty Eagle
Lego Challenge UK - Tubulator India - J Bharat USA - Tube Collector
Lego Open UK - Flik USA - Merry-Go-Round -
Ribbon Climber Indonesia - DU112 Solar-V13 Indonesia - DU112 SE-V13 USA - Skyhook I
NatCar Indonesia - Aziz Mexico - MCR Mastretta Mexico - Sky Line
Hockey:
15 lbs USA - Team Kick-me Brazil - Uai!rrior Hockey Team USA - Team Ice
Art Bots:
Static USA - Farad Puerto Rico - Wasa Puerto Rico - Wese
Kinetic USA - Cascade USA - Sparky USA - Don't Open Till Doomsday
Musical France - Gipsy Mexico - ROHMUS USA - Big Dog Daddy
Bartending USA - ThinBot USA - Elixirator USA - Brandy
Painting Poland - Calliope USA - WaterColorBot -
BEAM:
Speeder Brazil - Apollo India - Technophilia USA - Dirty Guilt
Photovore Brazil - Invictus USA - Dirty Guilt India - Technophilia
Junior League (<18 yr old):
Lego Bowling USA - Pin Smasher USA - 2013 Geared USA - Your Name Here
Lego Linefollow USA - Eva USA - LineBot 3000 USA - 2013 Ultrasonic
Lego TubePush USA - Tubinator USA - Sir Scores-a-Lot USA - Jack
Lego Open USA - The Dealer USA - Chopper USA - Ball Moving Contraption 1
Best of Show France - Simulo USA - Hugo France - Nony
500 g Sumo USA - AndersonBot Mexico - aztec warrior USA - Blue Meanie
1 lb Combat USA - Endgame USA - Roscoe USA - Hangar 11
Medal Count
USA 23 22 29
Mexico 2 8 11
Korea 6 6 3
Brazil 8 4 0
UK 5 2 2
Indonesia 4 4 1
Japan 2 2 3
Latvia 3 1 1
Philippines 1 4 0
France 3 0 1
India 0 2 1
Poland 1 1 0
Puerto Rico 0 1 1
Hong Kong 0 1 0
Canada 0 0 1
Lithuania 0 0 0
Australia 0 0 0

---
Permissions in this forum:
You
cannot
reply to topics in this forum